Welcome our 2022 Committee Members!
Congratulations to our new 2022 Student & Early Career Researcher Committee Members!
President: Mike Lawrence
Mike served as President-Elect for the past year, and has now o-fish-ally taken over from our Past President, Macey Rowan. Mike is an Aquatic Science Biologist with Fisheries and Oceans Canada!
President Elect: Taylor Heckman
Taylor is a postdoc at UC Davis, CA in Dr. Esteban Soto's Aquatic Animal Health Laboratory. They have been a member of the Student and Fish Health sections since they started graduate school, and in the upcoming year will be serving as the Early Career Representative for the AFS-FHS Long-Range Planning Committee. Additionally, Taylor is a coordinator for the Equity in Science, Technology, Engineering, Math, and Entrepreneurship (ESTEME) Mentor Matching Program at UC Davis! Taylor wishes to "Foster this spirit of communication and appreciation of diverse perspectives as President-Elect of the Student and Early Career Professionals subsection".
Secretary Treasurer: Cortney Brown
Cortney comes to us as an early career Fisheries Biologist working for a private aquatic restoration company that pursues projects focused on fish habitat restoration and enhancement. Cortney also joined AFS during her graduate school experience. During their time in graduate school, Cortney served as the Treasurer for the North American Sturgeon and Paddlefish Society (NASPS) and also served as President of the (NASPS) Student Subsection! Cortney is excited to serve as our Secretary Treasurer and to increase awareness of AFS to help encourage younger students to get involved with our society!
Canadian Division: Shannon Clarke
Shannon is a MSC student at Concordia University in Montreal, Canada studying how the genetics and demographics of alpine brook trout change with intense size-selective harvest. Throughout both her undergraduate and graduate experience, she has been involved in several student organizations, including serving as Co-President of her Departmental Student Association and acting as Vice President internal of the Faculty of Science Student Society. She is currently the graduate student representative for the Quebec Student Subunit and has held the position since January 2020. Shannon hopes to " Connect with students and young fisheries professionals to help them find a community and advance in their studies or careers".
Western Division: Lauren Yancy
Lauren graduated this past December from Texas A&M University with a degree in Fisheries, Aquaculture and Aquatic Sciences. She has since relocated to Fairbanks, Alaska and is working as a research technician at the University of Alaska Fairbanks. Lauren has been a member of AFS for four years now, beginning with her involvement with the A&M Student Subunit where they served as the President for two years. As she transitions from undergraduate to a masters student in the future, Lauren is excited to stay connected with AFS as it helped her achieve what she has thus far. Lauren says "The benefits of AFS are not fully realized or appreciated by many fisheries students; therefore, I am eager to serve in a position where I can facilitate networking, comradery, and connections among the Western Division subunits to fill in any gaps. Communication is one of the most important skills in our field, and I intend to embrace and initiate conversation to better serve the WDAFS on the executive committee of the Student and Early Career Professionals Subsection of the Education Section".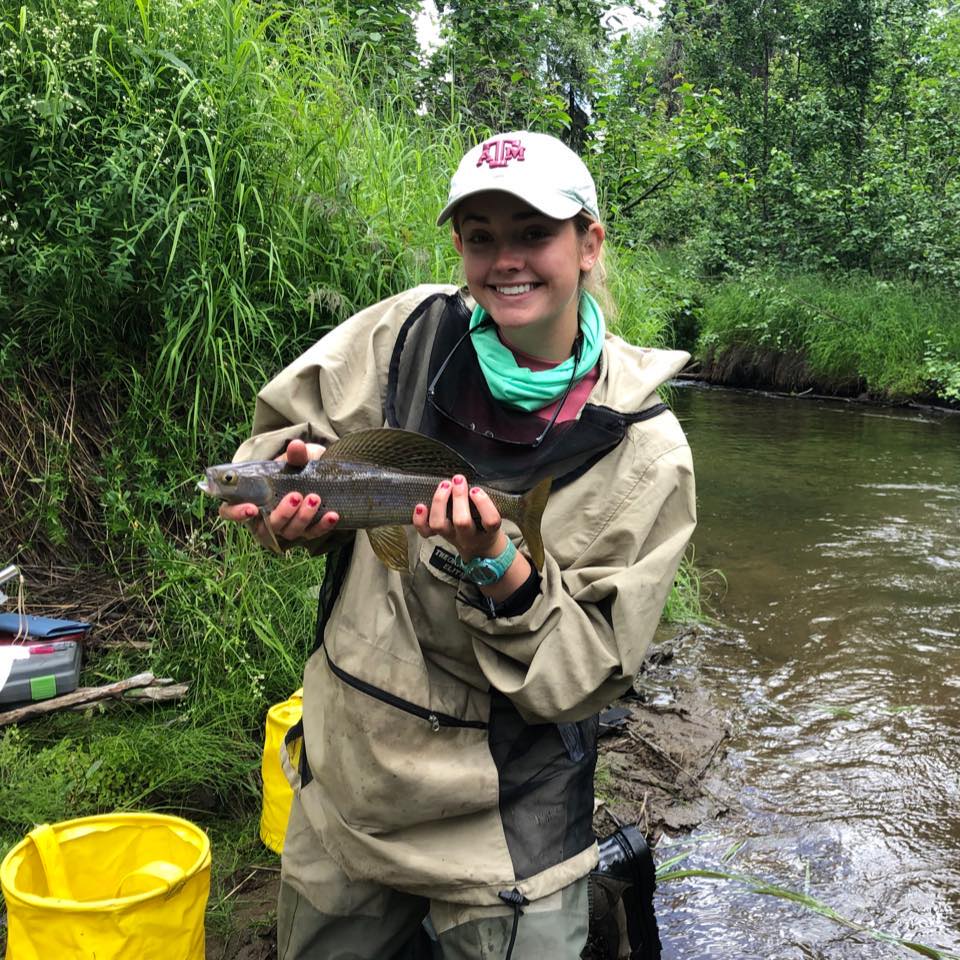 Southern Division: Matthew Lewis
Matthew is a Presidential Graduate Research Fellow and PhD candidate at Auburn University working on black bass genetics. He spent ten years working in human genetics before writing a book, Fly Fishing for Redeye Bass: An Adventure Across Southern Waters, in which he summarized the literature about and conservation challenges for this unique and endemic black bass. This process steered Matthew into fisheries to hopefully answer some pressing issues regarding hybridization and species boundaries of these fish. In addition, Matthew has founded an Alabama chapter of Native Fish Coalition (NFC) that works to protect, preserve, and restore native fish in their native habitat. He also serves on the National Advisory Council for NFC. At Auburn University, he has served as a Graduate Student Council (GSC) senator for Fisheries for the last two years. While attending American Fisheries Society meetings (both national and southern division), Matthew felt a desire to get more involved in AFS.
North Eastern Division: Carrie Pershyn
Carrie is an early career professional who currently works as Biodiversity Research Manager for the Ausable River Association, a nonprofit watershed conservation and research organization in the Adirondack mountains of upstate NY. Carrie graduated from SUNY College of Environmental Science and Forestry in Syracuse, NY in 2018 with an M.S. in Fish and Wildlife Biology and Management. Carrie's graduate thesis research at ESF focused on Brook Trout habitat use, recruitment, and population genetics in high elevation, groundwater-fed tributaries of the headwaters of the Ausable River. Their current research program focuses on climate change impacts on freshwater ecosystems, and their active research includes the use of environmental DNA to understand the distribution and recovery of Atlantic salmon and brook trout in tributaries to Lake Champlain. Carrie has been a member of the American Fisheries Society since 2015 and is also a member of the Student and Early Career Professionals subsection, the Northeastern Division, and Genetics Section. Carrie is looking forward to contributing to the SECP executive committee meetings throughout the year and disseminating information and activities of the subsection to the Northeastern Division membership and regional student sub-units. Carrie says, "As an early career professional, I feel I have much experience to share with student members. I look forward also to working within the NED and our subunits and student chapters to creatively recruit new membership wherever possible".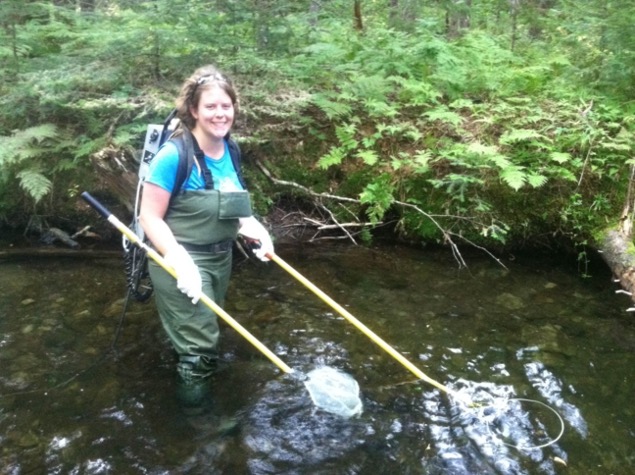 North Central Division: Hadley Boehm
Hadley is currently a PhD student at the University of Missouri School of Natural Resources and the Missouri Fish and Wildlife Research Unit. They worked between each of their degrees, so over the last 15 years have spent time living in Michigan, Ontario, Wisconsin, Minnesota, and Missouri where they have developed a strong professional network. During their time in Wisconsin, Hadley became very active in the state chapter of AFS (WIAFS), attending their first meeting in 2012. There, they served as WIAFS student subunit liaison. WIAFS created a student and young professionals committee, to which Hadley was appointed the inaugural chair. At the regional and society level, Hadley chaired the Student and Early Career Professional activities committee for the Midwest Fish and Wildlife Conference in 2018, co-chaired the Education Section webinar committee, and is currently the Education Section newsletter co-chair and the co-treasurer for the Equal Opportunities Section. Hadley's experiences working with students through AFS and mentoring of undergraduate technicians as a graduate student and agency biologist have been some of the most fulfilling experiences of their career. Hadley hopes to "one day have my own lab where I can address fisheries management and conservation questions and help students gain skills and experiences necessary for them to succeed as effective educators, researchers, and practitioners of the future".
Webmaster: Audrey Baetz
Audrey is currently a MSc student at Nicholls State University in Thibodaux, Louisiana. Her thesis research focuses on investigating species-habitat associations of Mississippi River floodplain gar species, along with stable isotope analysis. Audrey has been an active part of AFS since 2017, when she joined the parent chapter during her undergraduate career in Michigan. She is also a member of the Louisiana Chapter and Equal Opportunities Subsection. Audrey has attended a wide range of state and national AFS conferences, and has been involved with presenting her research and being an active member of the community. As she wraps up her final semester in graduate school, Audrey is excited for the opportunity to become more involved in AFS and give back to the society that has helped her grow so much as a professional. She hopes to use her position to increase awareness of AFS and assist in recruiting and retaining a wide diversity of members!